01 June 2007
Camping with a pregnant woman and a two year old....

B/c we are just that crazy.

DD learned many things this weekend. She learned the color blue, the number 4, the "number" 'O' and that rocks don't go in the mouth.
But she started off the weekend by learning a very important skill...




...how to fetch Daddy a beer.
*sigh*


But she really did like camping. See the chair there that is blue? I had to hear that it was blue about 50million times.




Note the large amount of dirt on the child's face...to quote, "Daddy! I like dirt!"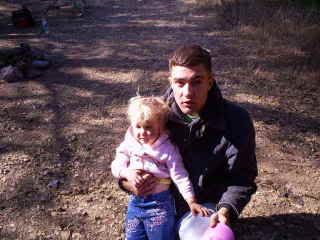 We also did some 4wheeling.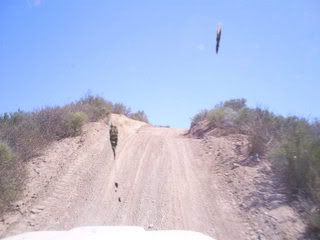 Dd managed to fall asleep during most of the hills.


Dh and I, after sleeping on the rocky ground, with one sleeping bag between us(about halfway through the night, dh got kicked out in favor of someone smaller, and actually had a pretty chilly night. Poor guy) and no shower.





All in all, it was a good weekend.
We drove the jeep there and back and made it the whole way.
Actually, the most extensive injury to the jeep was caused by dd yanking on the blinker and managing to break the arm off. Daddy forgave her thought, at least this time.
Labels: photos